Historia
Orígenes
Sonic Youth se formó en 1981 con una formación que incluía a Thurston Moore en guitarra y voz, a Kim Gordon en bajo, a Anna DeMarinis en teclados y a Richard Edson en batería. Rápidamente DeMarinis
dejó de formar parte de la banda y se unió Lee Ranaldo, que permanece hasta hoy en el grupo y habitualmente se cree que formaba parte de la primer formación aunque no es así. Moore, Ranaldo y Gordon habían formado parte de otras bandas de corta duración en la escena neoyorkina como los Arcadians y Plus Instruments y todos ellos habían tocado con Glenn Branca. Kim Gordon y Thurston Moore eran novios y más tarde se casaron .
Existen varias versiones sobre las razones del nombre de la banda. Una es que el nombre es una combinación de los nombres de Fred «Sonic» Smith de la banda de Detroit MC5 y del músico de reggae Big Youth. Otra versión dice que surgió como una burla a la gran cantidad de bandas con la palabra youth en sus nombres en la escena de Nueva York de principios de los Años 1980. Esta versión se vería respaldada por una versión del afiche del primer show de la banda en el que aparecían con el nombre de Fucking Youth [1].
Primeros años: 1982-1985
El primer álbum, llamado Sonic Youth (1982), es austero y reservado, con grandes deudas a Branca. En él la banda comenzó a usar una variedad de acordes alternativos y poco comunes nunca antes vista en la historia del rock. Una de las razones de estos acordes, según el escritor Michael Azerrad, fue que sólo podían pagar guitarras baratas y usando esos acordes y tocándolos con cosas como baquetas de batería colocados bajo las cuerdas, conseguían sonidos que disimulaban que las guitarras sonaban mal por ser baratas.
Después del primer disco Edson dejó a la banda para seguir una carrera como actor y fue reemplazado por Bob Bert. El primer larga duración de la banda, Confusion Is S
ex, fue editado en 1983 y es un álbum agresivo que lleva el ruido en una dirección que la banda nunca volvería a explorar luego de su siguiente lanzamiento, el EP Kill Yr Idols (1983) que continúa la misma línea noise. Estos discos suelen dividir tanto a los fans como a los críticos.
Bert fue despedido luego de una gira europea y reemplazado por Jim Sclavunos, quien renunció luego de unos pocos meses. La banda le pidió a Bert que vuelva y él aceptó bajo la condición de que no lo volvieran a despedir. Sonic Youth comenzó a incorporar gradualmente elementos de música pop pero manteniendo un sonido altamente experimental. Bad Moon Rising (1984) es un disco levemente conceptual, cuyas canciones tratan en su totalidad sobre violencia y locura con un sonido lógicamente claustrofóbico. Casi no existe separación entre las canciones, las cuales están llenas de ritmos pulsante y paredes de acople. La cantante Lydia Lunch participa de un dueto con Thurston Moore en la canción Death Valley '69 inspirada por los asesinatos del clan Manson. Mientras que el disco fue ignorado incluso por la prensa de Nueva York, tildándolo de demasiado pretencioso, en el Reino Unido fue aclamado por la crítica, vendiendo 5.000 copias en seis meses.
Insatisfecho con la falta de éxito comercial de la banda, Bert renunció y fue reemplazado por Steve Shelley, ex miembro de Crucifucks. Shelley era un batería técnicamente superior a los anteriores y además representaba un vínculo entre la banda y su interés por el hardcore.
SST y Enigma: 1986-1989
Sonic Youth había tenido fascinación por el influyente sello independiente SST Records. A principios de 1986 entraron en SST, publicando ese mismo año su primer álbum con este sello, EVOL, también el primero con Steve Shelley a la batería. En este disco aparece por primera vez una canción compuesta y cantada por Lee Ranaldo (In The Kingdom #19) y varias de las canciones están más cerca del pop que en los discos anteriores. La firma con SST catapultó a la banda a la escena nacional norteamericana, cosa que no había sucedido con sus anteriores discos.
Moonlander, guitarra especial fabricada por Yuri Landman para Lee Ranaldo
Moonlander, guitarra especial fabricada por Yuri Landman para Lee Ranaldo
La banda continuó refinando esa mezcla de experimentalismo con estructuras pop en su s
iguiente disco, Sister (1987). Levemente conceptual, el disco está inspirado en la obra del escritor de ciencia ficción Philip K. Dick y el título («hermana» en castellano) del disco es una referencia a la melliza de Dick muerta poco después de su nacimiento. Este álbum fue aclamado por la crítica y aún es considerado como uno de los mejores de la banda. Varias de sus canciones se convirtieron en clásicos que la banda sigue tocando en sus conciertos hasta hoy en día, como Schizophrenia y White Kross El disco vendió 60.000 copias y recibió críticas muy positivas.
El grupo, sin embargo, estaba muy insatisfecha con la discrográfica SST, debido a conflictos con los pagos y otros problemas adminstrativos (problemas que tuvieron también otras bandas de SST), de forma de decidieron publicar su siguiente disco, Daydream Nation (1988), con Enigma Records, que sería distribuido por Capitol Records. Con la edición de este álbum doble, Sonic Youth finalmente fue aclamado unánimemente por la crítica. El disco se convirtió en un clásico indie instantáneo mientras canciones como Teenage Riot, Silver Rocket y Eric's Trip serían verdaderos himnos de la banda. Daydream Nation fue considerado uno de los mejores discos de la década por diversos medios como Rolling Stone, Spin Magazine y Pitchfork (esta última lo eligió como el mejor disco de los 80). Sin embargo, surgieron problemas durante la distibución de Daydream Nation, por lo que a veces era difícil de encontrar el disco en las tiendas. Esto motivo que Sonic Youth buscara un sello de mayor importancia.
Geffen, iconos alternativos: 1990-Presente
Manteniendo un sentido de dignidad propia y autenticidad, Sonic Youth ha conseguido mantenerse financieramente viables además de convertirse en un grupo muy inlfuyente en la escena de la música alternativa. Tuvieron, por ejemplo, un papel imporante en el despegue del grunge, cuando en su gira de 1991 eran acompañados por un entonces relativamente desconocido grupo Nirvana, como se recoge en el vídeo 1991: The Year Punk Broke.
Imagen:Sonic1991.jpg
Thurston Moore durante un concierto de Sonic Youth en Países Bajos
En 1990 editan Goo, el primer disco con la multinacional Geffen Records. En ese disco se encuentra Kool thing, colaboración entre Sonic Youth y el grupo de rap Public Enemy, dónde Chuck D pone su voz.
Dirty, su siguiente álbum, fue editado en 1992. Para el vídeo de la canción 100% del disco contaron con el después aclamado director de vídeos de skate Spike Jonze, junto con Jason Lee como skateboarder. En esta canción, junto a JC, se hace referencia al asesinato de Joe Cole, amigo de la banda que trabajaba en el equipo técnico del grupo. El disco tiene en su portada y en su interior fotografías de trabajos del artista de Los Angeles Mike Kelley.
Coco Hayley Gordon Moore, hija de Thurston y Kim, nació en 1994, el año en que se publicó Experimental Jet Set, Trash and No Star. Es, posiblemente, uno de los discos más aventureros, aunque no lo aparenta a simple vista. Muchas de las canciones de este disco n
unca han sido tocadas en directo debido a que el embarazo de Kim impidió realizara una gira completa presentando el disco.
Desde lo spirmeros días de Sonic Youth, Kim Gordon había tocado ocasionalmente la guitarra. Por esta época comenzó a tocarla con más frecuencia, de forma que finalmente en el siguiente disco del grupo, Washing Machine (1995), la formación era de batería y tres guitarras. El álbum supuso un gran cambio en el sonido de la banda, que se alejaba de sus raíces más punk y se acercaba a composiciones de mayor duración y menos contundencia, auqnue no por ello más fáciles, como atestiguan el propio tema que da nombre al disco, Wasing Machine, y el cierre del disco, The Diamond Sea, una aparente balada que se convierte en un mar de distorsión de casi 20 minutos de duración. Destaca la participación de la bajista de Pixies, Kim Deal en los coros de la canción Little Trouble Girl. Por aquella época también murió el cantante de Nirvana, Kurt Cobain, quien tenía una estrecha relación con la banda. El tema Junkie's promise, de Lee Ranaldo, hace referencia a un personaje en parte inspirado por Cobain [sin referencias].
Posteriormente apareció A Thousand Leaves en (1998), un disco con sonidos más vanguardistas y marcado por pasajes instrumentales que aún así siguen una línea pop, claro ejemplo de esto es el single Sunday que estuvo acompañado de un video clip en el que aparece Macaulay Culkin. Es de resaltar la producción del sonido del disco y especialmente de las voces, claramente diferente a todos los discos anteriores.
El 4 de Julio de 1999, durante una gira en Orange, California, su camioneta fue robada por la noche con todas sus guitarras, amplificadores y demás aparatos. Obligados a comenzar de nuevo, grabaron su siguente disco, NYC Ghosts & Flowers (2000).
En el verano de 2002 publican Murray Street; la crítica habló de «el retorno de Sonic Youth», en parte revitalizados por la unión de Jim O'Rourke al grupo como miembro permanente. Le sigue Sonic Nurse (2004), y Rather Ripped (2006). Comparado con el resto de discos de Sonic Youth, este último presenta canciones más cortas, más melódicas y de estructura más convencional; si bien la vertiente más experimental del grupo queda ampliamente cubierta con la serie de EP experimentales SYR.
En Julio de 2007 se publica una noticia que sorprende a fans y aficionados al grupo: se publicará en los meses posteriores un disco con el gigante Starbucks. La noticia provoca grandes discusiones de sus fans de los foros y comentarios de traición de un grupo tradicionalmente asociado a actitudes antisistema.
Miembros

Miembros actuales
* Thurston Moore - voz, guitarra
* Lee Ranaldo - voz, guitarra
* Kim Gordon - voz, bajo, guitarra
* Steve Shelley - batería
Otros miembros

* Anna DeMarinis - voz, teclado
* Bob Bert - batería
* Richard Edson - batería
* Jim Sclavunos - batería
* Jim O'Rourke - bajo, guitarra, sintetizador

Discografia


Álbumes
1. Sonic Youth (Neutral, 1983)
2. Confusion Is Sex (Neutral, 1983)
3. Sonic Death (Ecstatic Peace, 1984)
4. Bad Moon Rising (Homestead, 1985)
5. EVOL (SST, 1986)
6. Sister (SST, 1987)
7. The Whitey Album (Enigma/Blast First, 1988, como Ciccone Youth,
con Mike Watt, J Mascis y Suzanne Sasic)
8. Daydream Nation (Enigma/Blast First, 1988)
9. Goo (DGC, 1990)
10. Dirty (DGC, 1992)
11. Experimental Jet Set, Trash and No Star (DGC, 1994)
12. Washing Machine (DGC, 1995)
13. A Thousand Leaves (DGC, 1998)
14. SYR4: Goodbye 20th Century (SYR, 1999)
15. NYC Ghosts & Flowers (DGC, 2000)
16. Murray Street (DGC, 2002)
17. Sonic Nurse (DGC, 2004)
18. Rather Ripped (DGC, 2006)
Directos y recopilaciones
1. Sonic Death (Directo, Ecstatic Peace, 1984)
2. Hold That Tiger (Directo, Goofin', 1991)
3. Live at the Continental Club (Directo, Sonic Death, 1992)
4. Live in Venlo (Directo, Sonic Death, 1995)
5. Screaming Fields of Sonic Love (Recopilatorio, DGC, 1995)
6. Made in USA (Banda sonora, Rhino, 1995)
7. The Destroyed Room: B-sides and Rarities (Recopilatorio, 2006, DGC)
EPs
1. Kill Yr Idols (Zensor, 1983)
2. TV Shit (Ecstatic Peace, 1993)
3. SYR1: Anagrama (SYR, 1997)
4. SYR2: Slaapkamers Met Slagroom (SYR, 1997)
5. SYR3: Invito Al Cielo (SYR, 1998)
6. Silver Session (For Jason Knuth) (Sonic Knuth Records, 1998)
7. In The Fishtank 9 (con Instant Composers Pool y the Ex) (Konkurrent, 2002)
8. SYR6: Koncertas Stan Brakhage Prisiminimui (SYR, 2005)
Singles
1. Flower/Halloween (1985)
2. Flower/Satan is Boring (1986)
3. Halloween II]] (1986
4. Into the Groove(y) (como Ciccone Youth) (1986)
5. Starpower (1986)
6. Teenage Riot (1988)
7. Candle (1989)
8. Disappearer (1990)
9. 100% (1992)
10. Youth Against Fascism (1992)
11. Sugar Kane (1993)
12. Whores Moaning - Oz '93 Tour Edition (1993)
13. Little Trouble Girl (1996)
14. Sunday (1998)
15. Mariah Carey and the Arthur Doyle Hand Cream (2003)
16. Helen Lundeberg (2006)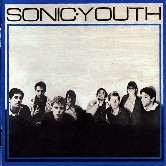 Tracks:
1. Burning Spear 3:28
2. I Dreamed I Dream 5:12
3. She Is Not Alone 4:06
--
4. I Don't Want To Push It 3:35
5. The Good And The Bad 7:55
Enlace de descarga (Badongo)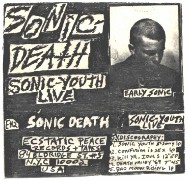 Tracks:
1. Side 1 38:32
--
2. Side 2 29:31
Enlace de descarga (Badongo)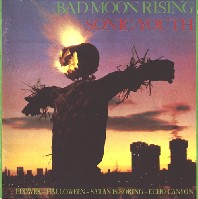 Tracks:
1. Intro 1:10 1:11
2. Brave Men Run (In My Family) 3:37 3:56
3. Society Is A Hole 5:57 4:51
4. I Love Her All The Time 7:28 8:21
--
5. Ghost Bitch 5:40 4:25
6. I'm Insane 4:07 6:55
7. Justice Is Might 4:21 2:56
8. Death Valley '69 5:10 5:22
Enlace de descarga (Badongo)
Tracks:
1. Teen Age Riot 6:57
2. Silver Rocket 3:47
3. The Sprawl 7:42
--
4. 'Cross The Breeze 7:00
5. Eric's Trip 3:48
6. Total Trash 7:33
7. Hey Joni 4:23
8. Providence 2:41
9. Candle 4:58
10. Rain King 4:39
--
11. Kissability 3:08
12. Trilogy:
a) The Wonder
b) Hyperstation
z) Eliminator Jr.
Enlace de descarga (Badongo)
The Whitey Album (1988)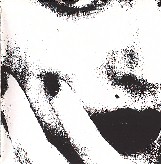 Tracks:
1. Needle-Gun 2:28
2. (silence) 1:03
3. G-Force 3:39
4. Platoon II 4:19
5. MacBeth 5:27
6. Me & Jill/Hendrix Cosby 5:31
7. Burnin' Up 3:51
--
8. Hi! Everybody 0:58
9. Children Of Satan/Third Fig 3:06
10. Two Cool Rock Chicks Listening To Neu 2:56
11. Addicted To Love 3:46
12. Moby-Dik 1:01
13. March Of The Ciccone Robots 1:56
14. Making The Nature Scene 3:15
15. Tuff Titty Rap 0:39
16. Into The Groovey 4:36
17. MacBeth II [CD BONUS TRACK] 5:15
Enlace de descarga (Badongo)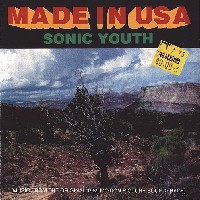 Tracks:
1. Mackin' For Doober 0:51
2. Full Chrome Logic 0:59
3. Secret Girl 2:54
4. Cork Mountain Incident 0:49
5. Moustache Riders 1:07
6. Tuck N Dar 3:40
7. Moon In The Bathroom 2:29
8. Thought Bubbles 2:25
9. Rim Thrusters 1:59
10. Lincoln's Gout 2:08
11. Coughing Up Tweed 1:17
12. Pre-Poured Wood 0:52
--
13. Hairpiece Lullaby 1 & 2 2:08
14. Pocketful Of Sen-Sen 1:15
15. Smoke Blisters 1 & 2 2:33
16. The Velvet Plug 2:31
17. Giggles 0:53
18. Tulip Fire 2 1:56
19. The Dynamics Of Bulbing 1:17
20. Smoke Blisters 3 & 4 3:20
21. O.J.'s Glove Or What? 1:20
22. Webb Of Mudd 1, 2 & 3 2:51
23. Bachelors In Fur! 1:00
Enlace de descarga (Badongo)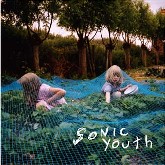 Tracks:
1. The Empty Page 4:20
2. Disconnection Notice 6:24
3. Rain On Tin 7:55
4. Karen Revisited 11:10
5. Radical Adults Lick Godhead Style 4:27
6. Plastic Sun 2:14
7. Sympathy For The Strawberry 9:07
Enlace de descarga
The Destroyed Room (2006)
Tracks:
01 Fire Engine Dream [2003, previously unreleased Sonic Nurse outtake]
02 Fauxhemians [2001, from the Noho Furniture Sessions and the All Tomorrow's Parties 1.1 compilation]
03 Is It My Body? [1991, from the 2 x 7" Alice Cooper Tribute]
04 Razor Blade [1994, B-side from the "Bull in the Heather" single]
05 Blink [1999, from the Pola X soundtrack]
06 Campfire [2000, from the At Home With the Groovebox compilation]
07 Loop Cat [2003, from the You Can Never Go Fast Enough compilation]
08 Kim's Chords [2003, Japanese bonus track from Sonic Nurse]
09 Beautiful Plateau [2003, Japanese bonus track from Sonic Nurse]
10 Three Part Sectional Love Seat [2001, previously unreleased track from the Noho Furniture Sessions]
11 Queen Anne Chair [2001, previously unreleased track from the Noho Furniture Sessions]
12 The Diamond Sea [1995, LP version with alternate ending; B-side from "The Diamond Sea" single]
Parte 1
Parte 2
Pass para todos: sonic-youth.blogspot.com