Radiohead
es un grupo inglés de rock alternativo. El quinteto, formado por un grupo de amigos de colegio en 1985; sacó su primer sencillo, "Creep" (1992), del álbum debut de la banda Pablo Honey (1993), el cual se convirtió en su mayor éxito a nivel mundial, en la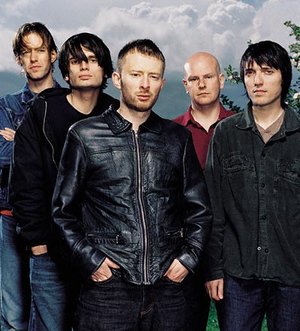 época en que el grunge (con bandas como Nirvana y Pearl Jam) y el rock alternativo dominaban las radios y los principales listados de música, y posteriormente se consideró a la banda como one-hit wonders. Sin embargo, la banda logró capturar la atención de miles de fanáticos del Reino Unido con su siguiente álbum, The Bends (1995), ganando admiradores gracias a las densas atmósferas logradas con tres guitarras, y al expresivo estilo de cantar (generalmente en falsetto) de su líder, Thom Yorke. El tercer álbum de estudio de la banda, OK Computer (1997), le brindó a la banda la fama mundial y éxito crítico. El álbum, que hablaba de temas de alienación, ha sido aclamado como uno de los mejores de los años noventa .
Entre las primeras influencias de Radiohead, se encontraban bandas de rock alternativo y post-punk como The Smiths, Pixies, R.E.M., Joy Division y Magazine. Con los álbumes Kid A (2000) y Amnesiac (2001) la música de la banda tomó un rumbo menos convencional, con influencias de música electrónica (tales como Aphex Twin), el jazz, la música experimental, la música avant-garde y la música clásica. El álbum más reciente de la banda Hail to the Thief de 2003. Aunque álbumes como Kid A y Amnesiac han sido materia de discusión entre los seguidores, Radiohead es considerado uno de los grupos musicales más creat
ivos de su era , atrayendo a múltiples seguidores a sus conciertos e influyendo a grupos y artistas de varios géneros. Radiohead ha tenido un sorpresivo éxito comercial, pero la banda se ha destacado por mantener independencia política y musical , pese a trabajar para EMI, uno de los más grandes sellos discográficos. La banda se encuentra actualmente sin discográfica y acaba de lanzar de forma independiente y sin intermediarios su séptimo álbum de estudio, In Rainbows. Además de en formato físico (CD y vinilo), el disco se puede descargar en formato digital desde la página web de In Rainbows al precio que decida el comprador (incluso gratuitamente). Su discografia a continuación.
Pablo Honey es el primer álbum de la banda británica Radiohead, lanzado el 22 de febrero de 1993. Su gran éxito fue el single Creep.
Todas las canciones del álbum fueron escritas por Thom Yorke.
Tracklist:
1. "You" - 03:27
2. "Creep"" - 03:55
3. "How Do You?" - 02:11
4. "Stop Whispering" - 05:25
5. "Thinking About You" - 02:41
6. "Anyone Can Play Guitar" - 03:37
7. "Ripcord" - 03:09
8. "Vegetable" - 03:12
9. "Prove Yourself" - 02:25
10. "I Can't" - 04:13
11. "Lurgee" - 03:07
12. "Blow Out" - 04:41
Enlace de descarga
The Bends (1995)


The Bends es el segundo LP de estudio de la banda británica Radiohead, publicado el 22 de marzo del año 1995. Entre los singles que se pueden destacar se encuentran High and dry, Fake Plastic Trees, Just, My iron lung y Street spirit.
La banda adelantó el álbum con el EP "My iron lung", el cual respondía a la resistencia a ser conocidos sólo por la canción "Creep" del disco "Pablo Honey". "The Bends" tardó en ser reconocido como un gran disco, y ha sido valorado a medida que pasan los años.
Tracklist:
1. Planet telex - 04:18
2. The bends - 04:06
3. High and dry - 04:17
4. Fake Plastic Trees - 04:50
5. Bones - 03:08
6. (Nice dream) - 03:53
7. Just - 03:54
8. My iron lung - 04:36
9. Bullet proof... I wish I was - 03:28
10. Black star - 04:07
11. Sulk - 03:42
12. Street Spirit (Fade Out) - 04:14
Enlace de descarga
OK Computer (1997)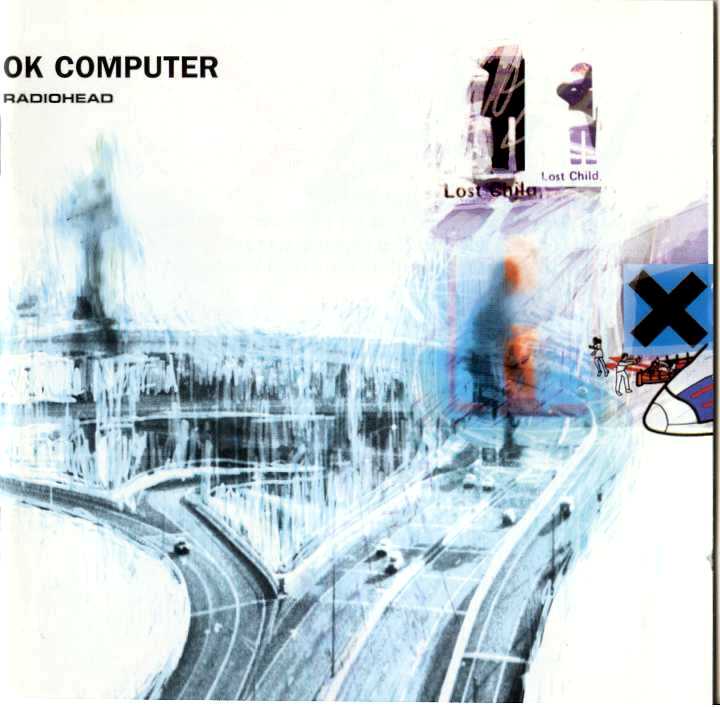 OK Computer es el tercer álbum de estudio del grupo musical británico Radiohead. El álbum fue lanzado inicialmente el 16 de junio de 1997 (en el Reino Unido), por medio de la compañía discográfica Parlophone.
El álbum fue un éxito comercial, lo que se tradujo en un enorme crecimiento de la popularidad del grupo a nivel mundial, marcando el ingreso de Radiohead en el mercado estadounidense de aquel momento, donde debutó en la 21ª posición. Debido a su inesperada popularidad, OK Computer se convirtió en el último álbum de Radiohead con lanzamiento diferido fuera del Reino Unido. Hasta enero de 2007, OK Computer ha sido certificado con doble disco de platino en Estados Unidos y triple disco de platino en el Reino Unido.
La popularidad de OK Computer se basa en los temas de alienación del mundo moderno. Aclamado por la crítica, el álbum es usualmente citado como el mejor trabajo de Radiohead y como punto de referencia musical de los años 1990. En 1998, fue nominado a los premios Grammy como "Álbum del año", ganando además la categoría al "Mejor álbum de música alternativa". Aunque OK Computer sirvió para poner al grupo británico en el frente de la música rock moderna, es apartado de los estilos populares de britpop y de rock alternativo de ese momento, exponiéndose como un trabajo preliminar para los siguientes álbumes, los cuales fueron más abstractos.
De acuerdo al cantante Thom Yorke, OK Computer también representó un cambio en su estilo de escribir la letra de las canciones, lejos de las preocupaciones personales de Pablo Honey y The Bends.
Para algunos expertos y críticos musicales puede que este sea uno de los mejores álbumes después de Sgt. Pepper's Lonely Hearts Club Band de The Beatles, en cuanto a cambio se refiere, ya que ambos fueron intensas transiciones de un estilo musical a otro más puro y maduro.
El disco, considerado el Dark Side of the Moon de la década de los años 1990, se presenta como el salto cualitativo y cuantitativo de esta banda, que hasta el segundo álbum solamente presentaba cuadros regulares y clásicos del rock de los 90. Sin embargo, el concepto propositivo y de ruptura de las bases que hasta entonces se marcaron en el rock contemporáneo se rompen con este disco.
Disponible Acá
Kid A (2000)


KID A es el cuarto álbum de estudio de la banda británica de rock alternativo Radiohead. Salió al mercado el 27 de Septiembre del 2000 en el Reino Unido y el 3 de Octubre de 2000 en los Estados Unidos y Canadá. El álbum alcanzó Disco de Platino en su primer mes y fue el primer álbum de Radiohead en debutar como #1 en el Billboard de Estados Unidos, pese a que la banda se haya negado a sacar un video o sencillo. Algunos observadores atribuyen esto al hecho de una campaña única de marketing (el álbum estaba totalmente disponible por internet en el portal de Napster antes de su lanzamiento y la banda dispuso una serie de blips o anti-videos de cada canción). Otros lo atribuyen al éxito masivo de su anterior producción, OK Computer. Masterizado en Abbey Road en agosto 7 del 2000.
Tracklist:
1. "Everything In Its Right Place" – 4:11
2. "Kid A" – 4:44
3. "The National Anthem" – 5:50
4. "How to Disappear Completely" – 5:55
5. "Treefingers" – 3:42
6. "Optimistic" – 5:16
7. "In Limbo" – 3:31
8. "Idioteque" – 5:09
9. "Morning Bell" – 4:29
10. "Motion Picture Soundtrack" – 7:01
Enlace de descarga
Amnesiac (2001)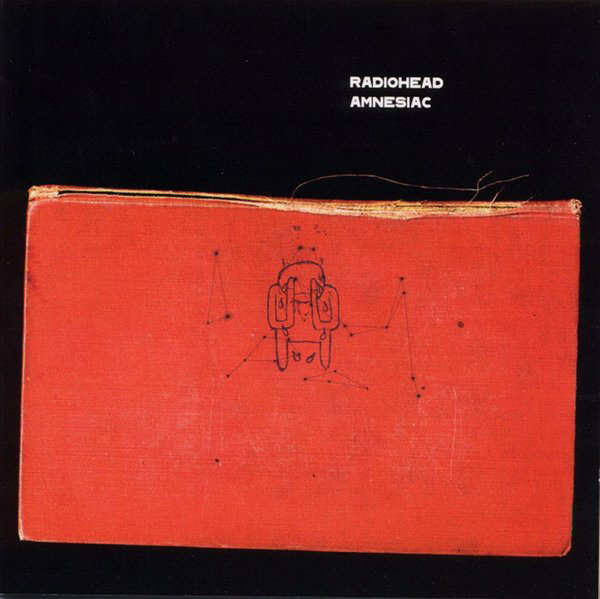 Amnesiac es el quinto álbum de la banda británica Radiohead, lanzado el 5 de junio del año 2001 en Estados Unidos y Canadá y debutando en #1 en el Billboard de Estados Unidos.
Amnesiac es visto como lo más lejano del rock y las letras características de Radiohead y, sin embargo, tiene más guitarras audibles que su predecesor, Kid A. Otra diferencia es que Amnesiac sí tuvo sencillos con éxito. Como en KID A, las influencias de Amnesiac vienen de la música electrónica, el IDM y el jazz.
Tracklist:
1. Packt like sardines in a crushd tin box - 4:00
2. Pyramid Song - 4:49
3. Pulk/pull revolving doors - 4:07
4. You and whose army? - 3:11
5. I might be wrong - 4:54
6. Knives out - 4:15
7. Amnesiac/Morning bell - 3:14
8. Dollars & cents - 4:52
9. Hunting bears - 2:01
10. Like spinning plates - 3:57
11. Life in a glass house - 4:34
Enlace de descarga
Hail To The Thief (2003)


Hail to the thief (tambien llamado The Gloaming es el sexto álbum de la banda oxoniense Radiohead, publicado el 10 de junio de 2003. Producido por Nigel Godrich, que ya había colaborado con ellos en todos sus trabajos anteriores, este álbum se aleja de la experimentación de discos anteriores (Kid A o Amnesiac) para centrarse en composiciones rock de formato más aparentemente tradicional, si bien la agresividad de algunas de las letras es mayor que en ningún otro de sus trabajos.
Tracklist:
1. "2 + 2 = 5 (The Lukewarm.)" – 3:19
2. "Sit Down. Stand Up. (Snakes & Ladders.)" – 4:19
3. "Sail to the Moon. (Brush The Cobwebs Out Of The Sky.)" – 4:18
4. "Backdrifts. (Honeymoon Is Over.)" – 5:22
5. "Go to Sleep. (Little Man Being Erased.)" – 3:21
6. "Where I End And You Begin. (The Sky Is Falling In.)" – 4:29
7. "We Suck Young Blood. (Your Time Is Up.)" – 4:56
8. "The Gloaming. (Softly Open Our Mouths In The Cold.)" – 3:32
9. "There There. (The Boney King Of Nowhere.)" – 5:23
10. "I Will. (No Man's Land.)" – 1:59
11. "A Punchup At A Wedding. (No No No No No No No No.)" – 4:57
12. "Myxomatosis. (Judge, Jury & Executioner.)" – 3:52
13. "Scatterbrain. (As Dead As Leaves.)" – 3:21
14. "A Wolf At The Door. (It Girl. Rag Doll.)" – 3:23
Enlace de descarga
Pass para todos: boodoo-boogie
In Rainbows (2007)
In Rainbows es el séptimo álbum de estudio del grupo musical británico Radiohead. El álbum fue lanzado inicialmente el 10 de octubre de 2007 como una descarga de ficheros MP3 sin ninguna protección DRM y permitiendo pagar al usuario la cantidad que creyese conveniente. Está previsto su lanzamiento el 3 de diciembre del 2007 en formato discbox con un segundo CD y material adicional. La banda firmó el 1 de noviembre del 2007 un contrato discográfico con XL Records, en el cual el primer sencillo especificado será Jigsaw Falling Into Place. El CD saldrá a la venta en tiendas el 31 de diciembre del 2007 en Europa, y un día después en EEUU.
La banda ha trabajado desde el 2005 en la continuación del su último trabajo, el Hail to the Thief publicado en 2003, durante más de dos años.
Disponible Acá
In Rainbows Bonus Disc
Tracklist:
1. "MK 1"
2. "Down Is the New Up"
3. "Go Slowly"
4. "MK 2"
5. "Last Flowers"
6. "Up on the Ladder"
7. "Bangers and Mash"
8. "4 Minute Warning"
Enlace de descarga