The Rolling Stones
es un grupo musical británico cuya música se basa en el rock and roll y el rhythm and blues, que junto a The Bea
tles sirvió como punta de lanza a la llamada en algunos lugares Invasión británica que se produjo en los primeros años de los '60s, La banda fue fundada en Londres en 1962 por su primer líder, Brian Jones, que después sería reemplazado en el mando por el binomio creativo formado entre el cantante Mick Jagger y el guitarrista Keith Richards. Con la inclusión del pianista Ian Stewart, el baterista Charlie Watts y el bajista Bill Wyman terminarían formando la primera alineación. El primero sería retirado de la alineación titular en 1963, pero siguió colaborando con la banda como manager de giras y tecladista hasta el momento de su muerte en 1985.
Los primeros álbumes de la banda se caracterizaban por incluir covers de canciones americanas de blues y R&B, aunque a los largo de su carrera han ido experimentado con otros géneros diversos como lo son el country, el disco o reggae. Su single "(I Can't Get No) Satisfaction" estableció a los Stones como una de las bandas más grandes en la escena del rock & roll. Sus composiciones se destacan, principalmente por melodías sencillas, y estructuras simples, donde no abundan demasiados acordes además de canciones crudas y cuyas letras tocan temáticas como el sexo, las drogas y en algunos casos misoginia, en desmedro de la influencia "progresiva" de la época. También son conocidos popularmente como sus Majestades Satánicas, debido a su álbum de 1967 titulado Their Satanic Majesties Request, y aunque el disco fue un relativo
fracaso, este mote les quedaría para siempre. Durante su American tour de 1969, Sam Cutler, el tour manager , los presentó como "The Greatest Rock and Roll Band in the World" ("La banda de Rock and Roll más grande del mundo"), un apodo que dura hasta ahora. Su imagen de "chicos malos" es una de las que todavía imitan los aspirantes a estrellas de rock.
Ha lanzado un total de 55 álbumes, entre grabaciones originales y compilaciones, además de poner 32 singles en los top-10 de Reino Unido y los Estados Unidos, con una totalidad de más de 200 millones de dis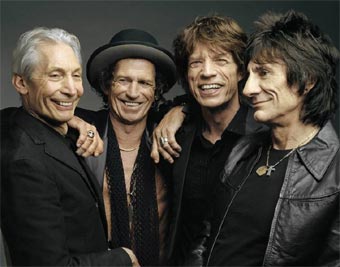 cos vendidos en el mundo. El disco de 1971, Sticky Fingers, inició una cadena de 8 álbumes en el #1 de ventas en los Estados Unidos. En 1989, fueron colocados en el Salón de la Fama del Rock and Roll, y en 2004 puestos en el 4º. lugar por la popular revista estadounidense Rolling Stone en la lista de 100 Greatest Artists of All Time. También fueron colocados en el lugar #2 de Los Mejores Artistas de todos los tiempos por el website de música Acclaimedmusic.net, considerándolos así una de las más grandes bandas de Rock & Roll, por detrás de The Beatles y por encima de otras como Pink Floyd, Led Zeppelin y The Who. Su más reciente producción, A Bigger Bang, fue lanzada en 2005 y fue acompañada por su su gira más exitosa hasta ahora, que duró hasta finales del verano de 2007.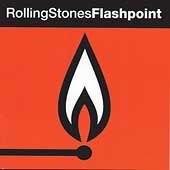 Tracks:
1. Continental Drift,
2. Start Me Up
3. Sad Sad Sad
4. Miss You
5. Rock And A Hard Place
6. Ruby Tuesday
7. You Can't Always Get What You Want
8. Factory Girl
9. Can't Be Seen
10. Little Red Rooster
11. Paint It Black
12. Sympathy For The Devil
13. Brown Sugar
14. Jumpin' Jack Flash
15. Satisfaction
16. Highwire
17. Sex Drive
Enlace de descarga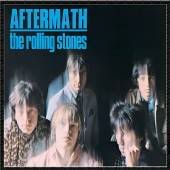 Tracks:
1. Paint It, Black
2. Stupid Girl
3. Lady Jane
4. Under My Thumb
5. Doncha Bother Me
6. Think
7. Flight 505
8. High And Dry
9. It's Not Easy
10. I Am Waiting
11. Going Home
Enlace de descarga
Tracks:
1. Ruby Tuesday
2. Have You Seen Your Mother Baby, Standing In The Shadow?
3. Let's Spend The Night Together
4. Lady Jane
5. Out Of Time
6. My Girl
7. Backstreet Girl
8. Please Go Home
9. Mother's Little Helper
10. Take It Or Leave It
11. Ride On, Baby
12. Sittin' On A Fence
Enlace de descarga
The Rolling Stones
Forty Licks (2002)
Tracks:
DISC 1:
1. Street Fighting Man
2. Gimme Shelter
3. Satisfaction, (I Can't Get No)
4. Last Time, The
5. Jumping Jack Flash
6. You Can't Always Get What You Want
7. 19th Nervous Breakdown
8. Under My Thumb
9. Not Fade Away
10. Have You Seen Your Mother Baby?
11. Sympathy For The Devil
12. Mother's Little Helper
13. She's A Rainbow
14. Get Off My Cloud
15. Wild Horses
16. Ruby Tuesday
17. Paint It, Black
18. Honky Tonk Women
19. It's All Over Now
20. Let's Spend The Night Together
DISC 2:
1. Start Me Up
2. Brown Sugar
3. Miss You
4. Beast Of Burden
5. Don't Stop - (previously unreleased)
6. Happy
7. Angie
8. You Got Me Rocking
9. Shattered
10. Fool To Cry
11. Love Is Strong
12. Mixed Emotions
13. Keys To Your Love - (previously unreleased)
14. Anybody Seen My Baby?
15. Stealing My Heart - (previously unreleased)
16. Tumbling Dice
17. Undercover Of The Night
18. Emotional Rescue
19. It's Only Rock 'N Roll (But I Like It)
20. Losing My Touch - (previously unreleased)
Parte 1
Parte 2
Goat's Head Soup Reheated (1973)
Tracks:
1. Dancing With Mr. D.
2. 100 Years Ago
3. Coming Down Again
4. Doo Doo Doo Doo Doo (Heartbreaker)
5. Angie
6. Silver Train
7. Hide Your Love
8. Winter
9. Can You Hear The Music
10. Star Star
Enlace de descarga