Ian Gillan
(nacido el19 de agosto de 1945 en Hounslow, Londres) es conocido por ser el cantante de la legendaria banda de Hard Rock británica Deep Purple. En 1970 interpretó el papel de Jesús de Nazaret en el disco conceptual original de la ópera rock Jesucristo Su
perstar. Fue también, aunque de manera muy breve, vocalista de Black Sabbath, otra de las grandes bandas del Hard Rock clásico.
Ian Gillan es considerado uno de los cantantes de rock más destacados e influyentes de la historia del género, pues poseía en su inicios un rango de voz muy extenso, en el cual se movía sin aparente esfuerzo, y con mucha precisión en los registros más altos. El tema Child in Time de Deep Purple, y sus famosos duelos voz/guitarra junto a Ritchie Blackmore, son algunas de las muestras más significativas y sorprendentes de ello.
Gracias a sus aportes y trascendencia, Gillan es tenido como uno de los principales gestores del estilo de canto del Hard Rock, y del que a la larga sería el del Heavy Metal, y es citado como fuente de inspiración por cantantes como Bruce Dickinson (Iron Maiden), Rob Halford (Judas Priest), James LaBrie (Dream Theater), Sebastian Bach (ex Skid Row), Joe Elliott (Def Leppard) y Michael Kiske (Helloween).
Biografia:
Gillan nació en Hounslow, Londres (Inglaterra), en una familia de ascendencia escocesa, su padre era del barrio de Govan en Glasgow.
Fue miembro de Deep Purple desde 1969 hasta 1973 apareciendo en álbumes como In Rock, Machine Head y Made in Japan. En esa misma época, interpretó el papel de Jesucristo en la versión original de Jesucristo Superstar de Andrew Lloyd Webber y Tim Rice.
Después de dejar Deep Purple, acusando agotamiento y por sus marcadas diferencias personales con el guitarrista Ritchie Blackmore, Gillan formó la Ian Gillan Band. En sus inicios tenía un distintivo toque de jazz y rock que no resultó muy popular, por lo que posteriormente evolucionó a un Heavy Metal más potente a la vez que cambiaba a toda la formación y acortaba el nombre del grupo a Gillan. Con la publicación de Mr. Universe, Ian Gillan estaba de vuelta en las listas de ventas del Reino Unido, y tras varios cambios en la formación del grupo publicó varios álbumes y sencillos de éxito como pudieron ser Glory Road, Future Shock, Double Trouble y Magic.
Anunció entonces que habría que deshacer la banda ya que necesitaba descansar sus cuerdas vocales porque estaban dañadas. En 1983 se unió a Black Sabbath para grabar el disco Born
Again y hacer la consiguiente gira a principios de 1984. No obstante, ese año Gillan se incorpora a la anunciada, y tan ansiada, reunión del hasta entonces desmembrado Deep Purple (inactivo desde 1976) en su formación más representativa, conocida como Mark II: Ian Gillan, Ritchie Blackmore, Jon Lord, Roger Glover e Ian Paice. El disco de la reunión sería Perfect Strangers, considerado como uno de los mejores retornos musicales de la historia del rock.
No obstante, Gillan abandona Deep Purple otra vez en 1989, nuevamente por diferencias irreconciliables con Ritchie Blackmore, y es sustituido por Joe Lynn Turner (ex Rainbow). Deep Purple graba entonces el disco Slaves and Masters, poco popular entre los fans del sonido clásico de la banda. Por ello, el resto de integrantes ejerce presión sobre Blackmore, y Turner es despedido en favor de la vuelta de Gillan en 1992. Así se graba The Battle Rages On, disco en cuya gira Blackmore decide abandonar la banda de manera intempestiva y definitiva (Joe Satriani lo reemplazaría de emergencia para cumplir con las restantes fechas ya pactadas).
Desde entonces, y hasta hoy, Ian Gillan se mantiene al frente de un activo Deep Purple como el vocalista más representativo de la historia de la banda.
En abril del 2006 Gillan publicó un CD/DVD con contenido multimedia para documentar sus 40 años de carrera titulado Gillan's Inn (La posada de Gillan). Tony Iommi, Jeff Healey, Joe Satriani, junto con Jon Lord, Roger Glover, Ian Paice, Don Airey y Steve Morse (estos últimos, miembros actuales o pasados de Deep Purple) aparecen en este trabajo. El proyecto incluye algunas regrabaciones selectas de varias canciones de Deep Purple, Black Sabbath y de sus otros trabajos.
Discografia:
Con Deep Purple
* Concerto for Group and Orchestra (1969)
*
Deep Purple in Rock (1970)
* Fireball (1971)
*
Machine Head (1972)
* Made in Japan (1972)
* Who Do We Think We Are (1973)
* Perfect Strangers (1984)
* The House of Blue Light (1987)
*
The Battle Rages On (1993)
* Purpendicular (1996)
* Abandon (1998)
* Bananas (2003)
*
Rapture of the Deep (2005)

*
Speed King: The Fastest Tracks (2005)

Como Ian Gillan Band
* Child in Time (1976)
*
Clear Air Turbulence (1976)
* Scarabus (1977)
* Live At The Budokan (1978)
Como Gillan
* Gillan (también conocido como el álbum japonés) (1978)
* Mr. Universe (1979)
*
Glory Road (1980)
* Future Shock (1980)
* Double Trouble (1981)
* Magic (1982)
Con Black Sabbath
*
Born Again (1983)
Con Roger Glover
*
Accidentally On Purpose (1988)
Como Garth Rockett & the Moonshiners
* Garth Rockett & The Moonshiners Live At The Ritz (1990)
Como Ian Gillan
* Naked Thunder (1991)
* Toolbox (1992)
* Cherkazoo And Other Stories - '73/'75 solo sessions (1992)
* Dreamcatcher (1998)
*
Gillan's Inn (2006)
Con The Javelins
* Sole Agency And Representation (1994)
- Marcados con rojo, disponibles en el post
- Marcados con verde, disponibles en el blog
2. Are You Sure?
3. Time and Again
4. No Easy Way
5. Your Mother Was Right
6. On the Rocks
7. If You Believe Me
8. Unchain Your Brain
9. Nervous
Bonus tracks
10. Your Mother was right
11. Redwatch
12. Abbey of Thelema
13. Trying To Get To You
14. Come Tomorrow
15. Dragons Tongue
16. Post-Fade Brain Damage
Enlace de descarga (Rapidshare)
Accidentally On Purpose (1988)


Tracks:
1. Clouds And Rain
2. Evil Eye
3. She Took My Breath Away
4. Dislocated
5. Via Miami
6. I Can't Dance To That
7. Can't Believe You Wanna Leave
8. Lonely Avenue
9. Telephone Box
10. I Thought No
11. Cayman Island
12. The Purple People Eater
13. Chet
Enlace de descarga (Sharebee)
Ian Gillan
Gillan's Inn (2006)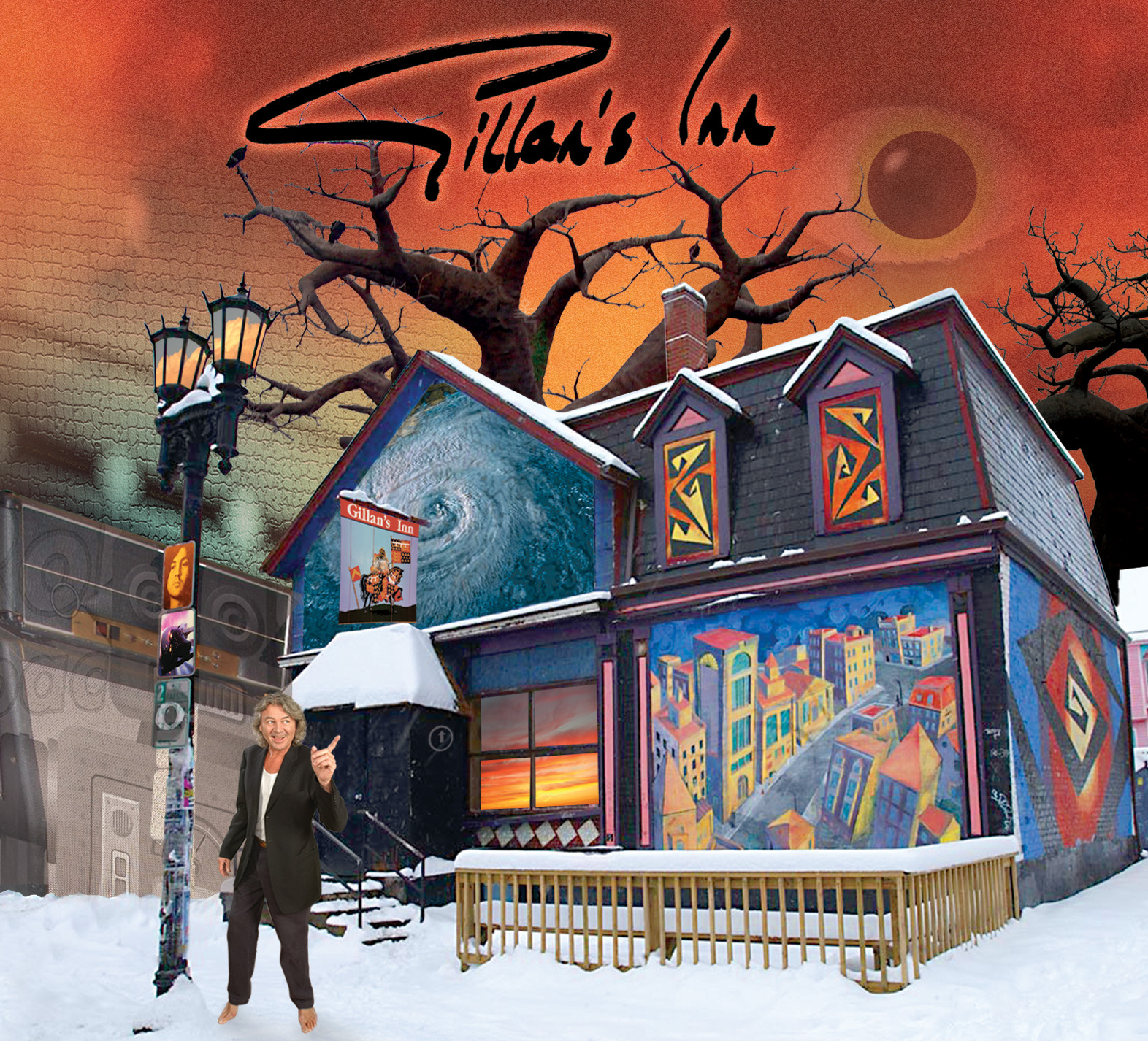 Tracks:
1. Unchain Your Brain (featuring Joe Satriani)
2. Bluesy Blue Sea (featuring Janick Gers)
3. Day Late And A Dollar Short (featuring Uli Jon Roth and Ronnie James Dio)
4. Hang Me Out To Dry (featuring Joe Satriani)
5. Men Of War (featuring Steve Morse & Johnny Rzeznik)
6. When A Blind Man Cries (featuring Jeff Healey)
7. Sugar Plum featuring Roger (Glover & Ian Paice)
8. Trashed (featuring Tony Iommi, Roger Glover & Ian Paice)
9. No Worries (featuring Michael Lee Jackson)
10. Smoke On The Water (featuring Steve Morse, Johnny Rzeznik, Ian Paice, Roger Glover, Robby Takac & The Mississauga Singers)
11. No Laughing In Heaven (featuring Roger Glover & Ian Paice)
12. Speed King (featuring Joe Satriani)
13. Borrowed Time (featuring Steve Morris, Steve Morse, & Uli Jon Roth)
14. I'll Be Your Baby Tonight (featuring Joe Elliott)
Enlace de descarga (Rapidshare)
2. Stonehenge
3. Disturbing the Priest
4. The Dark
5. Zero the Hero
6. Digital Bitch
7. Born Again
8. Hot Line
9. Keep It Warm
Enlace de descarga (Megaupload)
02.Five Moons
03.Money Lender
04.Over the Hill
05.Goodhand Liza
06.Angel Manchenio
Enlace de descarga (Rapidshare)
02 - Lick It Up
03 - Anya
04 - Talk About Love
05 - Time To Kill
06 - Ramshackle Man
07 - A Twist In The Tale
08 - Nasty Piece Of Work
09 - Solitaire
10 - One man's meat
Enlace de descarga