Dimmu Borgir
Es una banda noruega de Symphonic Black Metal. "Dimmu Borgir" significa "Fortaleza Oscura" en noruego y también un conjunto de cuevas formadas por lava en Islandia que según los nativos son la entrada al infierno.
Fue fundado originalmente en 1990 por Shagrath, Silenoz y Tjodalv. La banda inmediatamente sacó al mercado un LP titulado Inn I Evighetens Mørke en 1993 ("Dentro de la eternidad de la oscuridad"). Este disco vendió todas sus copias en pocas semanas. A continuación ese mismo año sacaron For All Tid 1994 ("En todo momento"). En 1996 sacaron Stormblåst (algo así como "rafaga de la tormenta"), álbum elogiado por muchos fans y señalado, por algunos, como uno de los principales de su carrera. Después de Stormblåst la carrera de Dimmu Borgir tomó un nuevo rumbo .El tecladista Stian Aarstad dejó la banda para cumplir el servicio militar en el ejército Noruego, de manera que no participó en la grabación de Devil's Path 1996. Cuando volvió para grabar Enthrone Darkness Triumphant 1997, tenía problemas para atender todas la fechas del tour y fue expulsado de la banda. Este disco tuvo éxito de ventas y fue el primero que sacaron bajo el sello de la discográfica Nuclear Blast. Los siguientes fueron Spiritual Black Dimensions 1999 y Puritanical Euphoric Misanthropia 2001. En 2003, Dimmu Borgir apostó con su mayor impulso financiero para crear el álbum Death Cult Armageddon. Partes de este disco fueron grabados por la Orquesta Filarmónica de Praga para incluir arreglos musicales de música clásica. Este álbum abre un nuevo horizonte al black metal, dotándolo de una mayor heterogeneidad gracias a su fusión con la música clásica. Recientemente, Dimmu Borgir lanzó el "remake" del tan aclamado disco "Stormblåst" lleno del nuevo estilo característico de la banda, melodías y arreglos complejos de alto valor comercial, combinados con teclados sobresalientes y coros.
Stormblåst (1996)


Tracks:
Alt Lys Er Svunnet Hen 6:07
Broderskapets Ring 5:10
Når Sjelen Hentes Til Helvete 4:33
Sorgens Kammer 6:21
Da Den Kristne Satte Livet Til 3:08
Stormblåst 6:16
Antikrist 3:43
Dødsferd 5:30
Vinder Fra En Ensom Grav 4:28
Guds Fortapelse - Apenbaring Av Dommedag 4:24
Parte I
Parte II
Godless Savage Garden (1998) [CD Recopilatorio]


Tracks:
1. Moonchild Domain
2. Hunnerkongen
3. Chaos Without Prophecy
4. Raabjorn Speiler Draugheimens Skodde
5. Metal Heart - (Accept Cover)
6. Stormblast - (live)
7. Master Of Disharmony - (live)
8. In Deaths Embrace - (live)
9. Spellbound (By The Devil) - (previously unreleased, live)
10. Mourning Palace - (previously unreleased, live)
Descargalo Aquí
In Flames
Es una banda de Melodic Death Metal que se fundó en 1990 en la ciudad de Gotemburgo en Suecia. Sobre los años han cambiado y evolucionado su estilo musical especialmente en sus trabajos mas recientes. Fue fundada por Jesper Strömblad, Johann Larsson y Glenn Ljungström en 1990. Actualmente la banda está integrada por Jesper Strömblad (Guitarra), Björn Gelotte (Guitarra), Daniel Svensson (Batería), Peter Iwers (Bajo) y Anders Fridén (Vocalista). Anders Fridén anteriormente había formado parte de Dark Tranquillity, otra banda de death metal melódico de Gotemburgo. Estas dos bandas junto con otras bandas de la misma ciudad compartieron un estilo nuevo de death metal similar y por ello muchas veces se habla de Gothenburg metal.
En 1995, con The Jester Race (primer album con Anders Friden como vocalista y con Nuclear Blast como discográfica) se les empieza a reconocer como una gran banda del género en toda Europa y Japón. En 1997 después de grabar su album Whoracle varios miembros del grupo deciden abandonarlo. Con Colony (1999) y Clayman (2000) se reafirman en el panorama internacional consiguiendo sus mayores éxitos en Canadá, EEUU, Japón y Europa realizando múltiples giras y alcanzando varios galardones.
En el año 2002 sacaron el polémico disco Reroute to Remain, alabado por unos y despreciado por otros, en el que su música evoluciona hacia un death metal más experimental, quizás más accesible al gran público. En 2004, en la misma línea que el anterior, editan el Soundtrack to Your Escape. Con su último disco, publicado en 2006, Come Clarity, se podría decir que vuelven a sus orígenes a la vez que mantienen ese punto de evolución de su última etapa. Con este disco, sólo en EEUU, han vendido mas de 110,000 copias. En estos momentos estan editando y grabando su nuevo disco.
Lunar Strain (1994)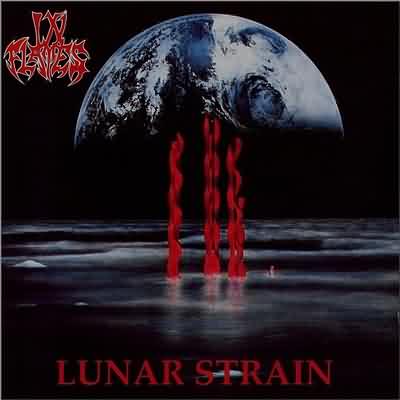 Tracks:
Behind Space

Lunar Strain

Starforsaken

Dreamscape

Everlost (Part 1)

Everlost (Part 2)

Hårgalåten

In Flames

Upon An Oaken Throne

Clad In Shadows
Descargalo Aquí

The Jester Race (1995)


Tracks:
1. "Moonshield" – 5:01
2. "The Jester's Dance" – 2:09
3. "Artifacts of the Black Rain" – 3:15
4. "Graveland" – 2:46
5. "Lord Hypnos" – 4:01
6. "Dead Eternity" – 5:01
7. "The Jester Race" – 4:51
8. "December Flower" – 4:10
9. "Wayfaerer" – 4:41
10. "Dead God In Me" – 4:15
Descargalo Aquí
Pass: www.chilewarez.org
Colony (1999)


Tracks:
1. Embody The Invisible
2. Ordinary Story
3. Scom
4. Colony
5. Zombie Inc.
6. Pallar Anders Visa
7. Coerced Coexistence
8. Resin
9. Behind Space '99
10. Insipid 2000
11. The New Word
Descargalo Aquí
Fear Factory

Es una banda de Death Metal / Industrial Metal, se formó en 1988 en Los Ángeles bajo el nombre de "Ulceration", de la mano de Raymond Herrera y Dino Cazares. Dino Cazares y Raymond Herrera compusieron la primera canción de Fear Factory, llamada "Sufferage", una noche de Halloween que pasaron juntos. A finales de 1989 entró en el grupo Burton C. Bell y el nombre fue cambiado por el de Fear Factory. Como curiosidad "Ulceration" es también el nombre de uno de los temas de su primer álbum Concrete.
Fear Factory es una de las mayores influencias de la música extrema, tanto por su técnica como por su sonido tan original e independiente que creó un estilo propio. Fue la primera banda que incorporó voces limpias en una banda de Death Metal. Comenzaron su trayectoria musical como una banda de Death Metal con los discos Concrete y Soul Of A New Machine, pero con grandes influencias de grupos como Napalm Death, Godflesh, Ministry, Neurosis y otras bandas industriales y Grindcore/Death Metal. Después, pasaron a Industrial/Death Metal con Demanufacture, y posteriormente a Industrial Metal con el disco Obsolete.
El inicio de su carrera profesional tuvo como punto de partida una recomendación de Max Cavalera, de Sepultura, a la discográfica Roadrunner Records, gracias a su álbum "Concrete". Previamente Fear Factory había enviado su material a Earache Records, que los rechazaron por parecerse demasiado a Napalm Death o a Godflesh.
Demanufacture (1995)


Tracks:
1.
Demanufacture
2.
Self Bias Resistor
3.
Zero Signal
4.
Replica
5.
New Breed
6.
Dog Day Sunrise
7.
Body Hammer
8.
Flashpoint
9.
H-K (Hunter-Killer)
10.
Pisscrist

Tracks:
"What Will Become?" (Bell/Cazares/Herrera/Wolbers) – 3:23
"Damaged" (Bell/Cazares/Herrera/Wolbers) – 3:02
"Digimortal" (Bell/Cazares/Herrera/Wolbers) – 3:02
"No One" (Bell/Cazares/Herrera/Wolbers) – 3:36
"Linchpin" (Bell/Cazares/Herrera/Wolbers) – 3:25
"Invisible Wounds (Dark Bodies)" (Bell/Cazares/Herrera/Wolbers) – 3:54
"Acres Of Skin" (Bell/Cazares/Herrera/Wolbers) – 3:55
"Back The Fuck Up" (Bell/Cazares/Freese/Herrera/Wolbers) – 3:09
"Byte Block" (Bell/Cazares/Herrera/Wolbers) – 5:20
"Hurt Conveyor" (Bell/Cazares/Herrera/Wolbers) – 3:40
"(Memory Imprints) Never End" (Bell/Cazares/Herrera/Wolbers) – 6:47
Parte I
Parte II
Es una banda de Symphonic Black Metal procedente del Reino Unido, específicamente de la ciudad de Ipswich, Condado de Suffolk (Sureste de Inglaterra). Formada a principios de los 90, su estilo era en un principio Black Metal crudo, pero luego aparecieron teclados simples. Su transformación ha sido grave. Ahora tienen un estilo marcado y propio, con un teclado hábil y armonioso. Una guitarra con ciertos riffs maidenescos y una atmósfera siniestra. Dani Filth, el carismático vocalista, puede producir sonidos muy graves y cambiar rápidamente a una voz aguda/chillona (gutural vampírico), (MANEJA CINCO TIPOS DE VOCES) una de las características de la banda. Además de eso, la segunda voz femenina, la corista Sarah Jezebel Deva (antes vocalista colaboradora de Therion), alcanza notas dignas de una soprano.
Tracks:
1 Satyriasis (Cradle Of Filth, Filth) 1:41
2 Gilded Cunt (Cradle Of Filth, Filth) 4:07
3 Nemesis (Cradle Of Filth, Filth) 7:17
4 Gabrielle (Cradle Of Filth, Filth) 5:27
5 Absinthe With Faust (Cradle Of Filth, Filth) 5:14
6 Nymphetamine (Overdose) (Cradle Of Filth, Filth) 9:14
7 Painting Flowers White (Cradle Of Filth, Filth) 1:56
8 Never Suited My Palette (Cradle Of Filth, Filth) 4:43
9 Medusa and Hemlock (Cradle Of Filth, Filth) 5:17
10 Coffin Fodder (Cradle Of Filth, Filth) 4:45
11 English Fire (Cradle Of Filth, Filth) 6:15
12 Filthy Little Secret (Cradle Of Filth, Filth) 7:08
13 Swansong for a Raven (Cradle Of Filth, Filth) 7:32
14 Mother of Abominations (Cradle Of Filth, Filth) 5:04
15 Devil Woman Britten 3:38
16 Soft White Throat (Cradle Of Filth, Filth) 5:40
17 Bestial Lust (Bitch) (Quorthon) 2:54
18 Prey (Cradle Of Filth, Filth) 4:57
19 Nymphetamine (Cradle Of Filth, Filth) 5:03
20 Mr. Crowley (Daisley, Kerslake, Osbourne ...) 8:13
Descargalo Aquí
Pass: ZCDarrah@Warez-BB
Rhapsody Of Fire
Conocidos hasta el 2005 como Rhapsody, es un grupo de Power Metal con tintes sinfonicos, arreglos y liricas epicas, procedente de Italia que ha ido evolucionando desde el mal llamado Power Metal Épico hasta lo que es ahora, una mezcla de Power Metal con musica clasica y sonidos "hollywoodescos" con traicionales liricas que hablan de dragones, caballeros, demonios, castillos y doncellas,estilo al que ellos gozan en llamar Film Score Metal. En el 2006 han tenido que cambiar su nombre por motivos legales a "Rhapsody Of Fire", debido a que el nombre ya se encontraba registrado.
Symphony Of Enchanted Lands (1998)
Tracks:
1. Epicus Furor
2. Emerald Sword
3. Wisdom Of The Kings
4. Heroes Of The Lost Valley
5. Eternal Glory
6. Beyond The Gates Of Infinity
7. Wings Of Destiny
8. The Dark Tower Of Abyss
9. Riding The Winds Of Eternity
10. Symphony Of Enchanted Lands
Parte I
Parte II
Pass :
http://PowerOfMetal.NNM.ru/
Dawn Of Victory (2000)


Tracks:
1. Lux Triumphans
2. Dawn Of Victory
3. Triumph For My Magic Steel
4. The Village Of Dwarves
5. Dargor, Shadowlord Of The Black Mountain
6. The Bloody Rage Of The Titans
7. Holy Thunderforce
8. Trolls In The Dark
9. The Last Winged Unicorn
10.The Mighty Ride Of The Firelord
Descargalo Aquí