James Patrick Page
, es considerado uno de los mas grandes guitarristas y músicos de t
odos los tiempos, se caracterizo por haber redefinido lo que se podia hacer con una Les Paul. Nació el 9 de enero de 1944 en Heston, en el condado de Middlesex, Inglaterra. Hijo de un administrativo, James Page y de una secretaria, Patricia Elizabeth Gaffikin, Jimmy ha influenciado a grandes musicos como Slash, Steve Vai y Eddie Van Halen. Su pasión por el rock se inició cuando escuchó la canción Let's Play House de Elvis Presley. En 1956 apareció por primera vez en un programa televisado de jóvenes talentos, Huw Wheldon Show, dónde interpretó Mama Don't Wanna Play No Skiffle No More. En enero de 1963 realiza su primera grabación de estudio con el sigle Diamonds del duo Jet & Tony.
A partir de entonces, Jimmy se convierte en músico de estudio colaborando con artistas como Mickie Most, Who, Rolling Stones, Davy Jones, Joe Cocker, etc.
Page esta consideraro el noveno mejor guitarrista de la historia de acuerdo con Rolling Stone.
The Yardbirds

En 1966, Page entró a formar parte de The Yardbirds por donde habían pasado grandes guitarristas de la talla de Eric Clapton y Jeff Beck con quien trabajó durante algunas semanas. No nos podemos olvidar del hecho de que Peter Grant era por aquel entonces manager de los Y
ardbirds. En julio de 1968 el grupo se disgrega, teniendo pendientes una serie de actuaciones en la península escandinava, hecho que motivó la búsqueda de nuevos músicos por parte de Page. En septiembre de ese mismo año Jimmy Page decide crear The New Yardbirds con John Paul Jones al bajo y teclados (ocasionalmente también otros instrumentos), a quien ya conocía de antes porque ya habían trabajado juntos (J.P. Jones era arreglista). Conoce a Robert Plant que por aquel entonces era el cantante de Hobbstweedle. John Bonham, el baterista, fue aconsejado por Plant, con quien había estado en dos grupos anteriores.
Led Zeppelin
El nombre de Led Zeppelin lo plagió Page de un chiste de Keith Moon, (extravagante baterista de the Who) con el que había coincidido en una sesión de grabación de un tema de Jeff Beck. La actividad dentro del cuarteto fue frenética desde el principio. En seguida se hicieron notar sus labores como productor, compositor y músico de estudio en todos los trabajos de Zeppelin, siendo muchas veces el artífice de temas que se han convertido con el tiempo en clásicos de la música rock, además de ser considerado como uno de los músicos más inspirados y ca
pacitados para la improvisación en directo, al igual que sus compañeros de banda. Una de sus características como guitarrista es el uso de un arco de violín durante algunos temas, así como del sintetizador denominado como theremin. También es conocido entre otras cosas por ser el que popularizó la guitarra Gibson ES-1275 Doubleneck (de doble mástil) , lo que le convirtió en un hito de los años setenta. Durante la gira americana de 1977 Page solía dar recitales de efectistas y extravagantes solos de guitarra de hasta 20 minutos.
Su pasión por el ocultismo se puso de manifiesto durante la gira de Led Zeppelin en el año 1973, con la parafernalia que le acompañaba, sus trajes y amuletos con signos ocultistas y su consabida admiración por Aleister Crowley, (Con el tiempo Page llegó al extremo de comprar la mansión donde había vivido Crowley en Escocia)
Durante los últimos años de Led Zeppelin (finales de los 70), la actividad de Page dentro de la banda disminuyó a causa de los problemas que le reportaba su addición a sustancias como la heroína. Esto, más el cada vez más alarmante alcoholismo de John Bonham, provocó la imposición de los dos miembros restantes de la banda, Robert Plant y John Paul Jones como principales compositores del que sería el último trabajo del grupo, In Through The Out Door.
Después de Led Zeppelin
El periodo que comprende la disolución de Led Zeppelin hasta nuestro días ha sido para Page bastante inten
so. Además de ocuparse de la remasterización de todo el catálogo de Led Zeppelin en formato CD, ha compuesto la banda sonora de Death Wish 2 (Charles Bronson); ha tocado junto a muchos solistas y bandas, como Jeff Beck, Yes... o incluso ¡Harry Connick Jr! También participó en el álbum de Box of Frogs, un disco reunión de antiguos miembros de The Yarbirds. Formó una banda llamada The Firm, con la cual sólo publicó dos discos, llamados The Firm y Mean Business junto a los nombres de Paul Rodgers, Tony Franklin y Chris Slade. También participó en los festivales ARMS, junto a estrellas como Steve Winwood, Bill Wyman, Charlie Watts, Kenny Jones o Simon Phillips.
Lo más destacable de su trabajo en solitario quizás sea su trabajo publicado en 1988, Outrider, con Jason, el hijo de John Bonham a la batería y Robert Plant, voz invitada en la canción The Only One.
En los noventa la actividad de Page se tradujo en el disco que realizó junto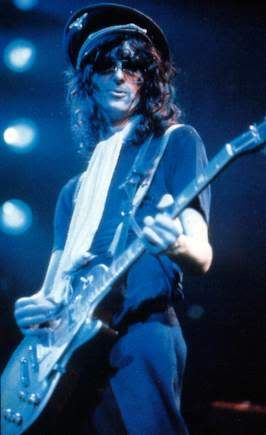 con David Coverdale, ex vocalista de Deep Purple y Whitesnake. Tras esto, se sucedieron dos colaboraciones con Robert Plant, la primera se titulaba No Quarter y consistía en una gira en la cual se presentaban nuevos arreglos de temas de Led Zeppelin (como Kashmir) con nuevos aires orientales. La segunda colaboración consistió en un álbum llamado Walking Into Clarksdale (1998), con su consiguiente gira de presentación. En 1998 también lanzó el disco "The Masters: No Introduction Required" junto a John Paul Jones, viejo amigo de Led Zeppelin.
En cuanto a su vida personal se conoce poco. Tiene una hija llamada Scarlett, fruto de una relación en los setenta, y un hijo, James, nacido de su matrimonio que duró hasta 1995. Poco después se casó con la joven Jimena Gómez Paratcha, de origen argentino-brasileño, con quien también ha tenido descendencia. Gracias a su relación con Jimena, durante los últimos años, Jimmy Page se ha volcado a las acciones benéficas, sobre todo en Brasil, donde auspicia la fundación Casa Jimmy, para niños sin hogar, y la Action For Brazil's Chidren (ABC) Trust, por las que ha sido recientemente coronado como Caballero de la Orden Británica.
Tracks:
1. Nobody's Fault But Mine (4:06), Page, Plant
2. Thank You (5:47), Page, Plant
3. No Quarter (3:45), Jones, Page, Plant
4. Friends (4:37), Page, Plant
5. Yallah (4:59), Page,Plant
6. City Don't Cry (6:08), Page, Plant
7. Since I've Been Loving You (7:29), Jones, Page, Plant
8. Battle of Evermore (6:41), Page, Plant
9. Wonderful One (4:57), Page, Plant
10. That's the Way (5:35), Page, Plant
11. Gallows Pole (4:09), trad arr Page, Plant
12. Four Sticks (4:52), Page, Plant
13. Kashmir (12:27), Page, Plant, Bonham
Enlace de descarga
Tracks:
1. Who's to Blame
2. Chase
3. City Sirens
4. Jam Sandwich
5. Carole's Theme
6. Release
7. Hotel Rats and Photostats
8. Shadow in the City
9. Jill's Theme
10. Prelude
11. Big Band, Sax and Violence
12. Hypnotizing Ways (Oh Mamma)
Enlace de descarga (Zshare)
Tracks:
1-01 You Shook Me (5:14)
1-02 I Can't Quit You Baby (4:22)
1-03 Communication Breakdown (3:12)
1-04 Dazed And Confused (6:39)
1-05 The Girl I Love She Got Long Black Wavy Hair (3:00)
1-06 What Is And What Should Never Be (4:20)
1-07 Communication Breakdown (2:40)
1-08 Travelling Riverside Blues (5:12)
1-09 Whole Lotta Love (6:09)
1-10 Somethin' Else (2:06)
1-11 Communication Breakdown (3:05)
1-12 I Can't Quit You Baby (6:21)
1-13 You Shook Me (10:19)
1-14 How Many More Times (11:51)
2-01 Immigrant Song (3:20)
2-02 Heartbreaker (5:16)
2-03 Since I've Been Loving You (6:56)
2-04 Black Dog (5:17)
2-05 Dazed And Confused (18:36)
2-06 Stairway To Heaven (8:49)
2-07 Going To California (3:54)
2-08 That's The Way (5:43)
2-09 Whole Lotta Love (Medley): Boogie Chillun' / Fixin' To Die / That's Alright Mama / A Mess Of Blues (13:45)
2-10 Thank You (6:37)
Parte 1
Parte 2
Parte 3
Tracks:
01. Fortune Hunter
02. Cadillac
03. All The King's Horses
04. Live In Peace
05. Tear Down The Walls
06. Dreaming
07. Free To Live
08. Spirit Of Love
Enlace de descarga (Zshare)