Armando Anthony Corea
(Chelsea, Massachusetts, 12 de junio 1941), conocido como Chick Corea, es un pianista, teclista y compositor estadounidense de jazz, ganador de numerosos premios Gra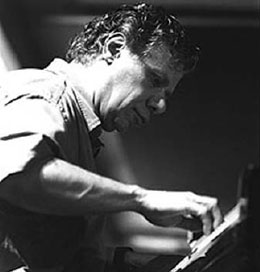 mmy.
Corea es muy conocido por su trabajo durante los años 70 en el género de jazz fusion. En los años 1960, participó en el nacimiento de esta corriente como miembro de la banda de Miles Davis, y posteriormente creó el grupo Return to Forever, formando equipo con otros virtuosos instrumentistas.
A lo largo de los años 80 y 90 prosiguió con sus colaboraciones con otros músicos, como Gary Burton. Junto a Herbie Hancock y Keith Jarrett, Corea es considerado generalmente como uno de los más influyentes pianistas posteriores a Bill Evans y McCoy Tyner. Su manera de tocar en ciertos aspectos recuerda a la de Hancock, aunque Corea mantiene un estilo peculiar. Además, es compositor de varios estándares del jazz, a través de títulos como Spain, La Fiesta y Windows.
Es también conocido por apoyar la causa de la iglesia de la Cienciología, dentro de cuya organización ha alcanzado el nivel máximo, OTVIII.
Chick Corea cuenta en su familia con antecedentes italianos y españoles.
Corea empezó a tocar el piano a la edad de cuatro años; sus primeras influenc
ias en el jazz fueron Horace Silver y Bud Powell. Fue adquiriendo experiencia tocando en las bandas de Mongo Santamaria y Willie Bobo (1962-1963), Blue Mitchell (1964-1966), Herbie Mann, y Stan Getz. Su primera grabación como líder fue en 1966, Tones for Joan's Bones, y su álbum en trío en 1968 (con Miroslav Vitous y Roy Haynes) Now He Sings, Now He Sobs se considera ya un clásico. Después de un breve intervalo de tiempo con Sarah Vaughan, Corea formó parte del grupo de Miles Davis para reemplazar gradualmente a Herbie Hancock, permaneciendo con Davis durante un periodo muy importante de la banda (1968-1970). Persuadido por Davis, comenzó a tocar el piano eléctrico, produciendo significantes álbumes como Filles de Kilimanjaro, In a Silent Way, Bitches Brew y Miles Davis at the Fillmore. Cuando dejó a Davis, Corea comenzó a tocar jazz
acústico de vanguardia en "Circle", un cuarteto con Anthony Braxton, Dave Holland y Barry Altschul; lo hizo hasta finales de 1971, cuando de nuevo cambio su estilo.
Al dejar "Circle", Corea tocó brevemente con Stan Getz y luego formó Return to Forever, un grupo de música brasileña con Stanley Clarke, Joe Farrell, Airto y Flora Purim. En un año, Corea (con Clarke, Bill Connors, y Lenny White) convirtió Return to Forever en un grupo que practicaba una fusión enérgica; el guitarrista Al Di Meola sustituyó a Connors en 1974. Aunque la música del grupo tenía una fuerte inspiración rockera, sus improvisaciones eran marcadamente jazzísticas, y el estilo de Corea podía reconocerse incluso bajo barreras de electrónica. Cuando RTF desaparece a finales de los 70s, Corea mantuvo el nombre para algunas actuaciones de big band al lado de Clarke. Durante los años siguientes, profundizó en el piano acústico apareciendo en una gran variedad de contextos; giras a dúo con el vibrafonista Ga
ry Burton y Herbie Hancock, un cuarteto con Michael Brecker, tríos con Miroslav Vitous y Roy Haynes, tributos a Thelonious Monk, e incluso algo de música clásica.
En 1985, Chick Corea formó un nuevo grupo, The Elektric Band, integrada por el bajista John Patitucci, el guitarrista Scott Henderson (en el primer disco de la banda, luego reemplazado definitivamente por Frank Gambale), el saxofonista Eric Marienthal y el baterísta Dave Weckl. Para equilibrar su música, años más tarde formó su Akoustic Band con Patitucci y Weckl. A principios de los 90 Patitucci formó su propio grupo y el personal cambió, pero Corea continuó liderando interesantes grupos (incluido un cuarteto con Patitucci y Bob Berg). Durante 1996-1997, Corea formó parte de un quinteto estelar (que incluía a Kenny Garrett y Wallace Roney) tocando versiones actualizadas de composiciones de Bud Powell y Thelonious Monk.
Now He Sings, Now He Sobs (1969)
Tracks:
"Steps - What Was"
"Matrix"
"Now He Sings, Now He Sobs"
"Now He Beats The Drum, Now He Stops"
"The Law Of Falling And Catching Up"
"Samba Yantra"
"Bossa"
"I Don't Know"
"Fragments"
"Windows"
"Gemini"
"Pannonica"
"My One And Only Love"
Enlace de descarga
Tracks:
1. Dayride
2. Jungle Waterfall
3. Flight Of The Newborn
4. Sofistifunk
5. Excerpt From The First Movement Of Heavy Metal
6. No Mystery
7. Interplay
8. Celebration Suite Part I
9. Celebration Suite Part II
Artists:
Chick Corea - vocals, acoustic & electric pianos, organ, Clavinet, synthesizer, marimba, snare drum
Stanley Clarke - vocals, organ, synthesizer, acoustic & electric basses
Al DiMeola - acoustic & electric guitars
Lenny White - marimba, drums, congas, percussion
Enlace de descarga
Tracks:
1. Imp's Welcome
2. Lenore
3. Reverie
4. Looking At The World
5. Nite Sprite
6. Soft And Gentle
7. Pixiland Rag
8. Leprechaun's Dream
9. (untitled) - (hidden track)
Enlace de descarga
Tracks:
1. City Gate
2. Rumble
3. Side Walk
4. Cool Weasel Boogie
5. Got A Match?
6. Elektric City
7. No Zone
8. King Cockroach
9. India Town
10. All Love
11. Silver Temple
Enlace de descarga
Chick Corea Akoustic Band
Tracks:
On Green Dolphin Street - 9:14
How Deep Is the Ocean? - 11:40
Humpty Dumpty - 8:51
Sophisticated Lady - 6:59
U.M.M.G. (Upper Manhattan Medical Group) - 5:29
'Round Midnight - 8:39
Hackensack - 2:41
Morning Sprite - 10:15
Musicians:
Chick Corea - Piano
Dave Weckl - Drums
John Patitucci - Bass
Parte 1
Parte 2