Tony Iommi
(Frank Anthony Iommi), es el guitarrista del grupo de Heavy Metal Black Sabbath. Es considerado también unos de los guitarristas más influyentes e importantes de la música rock, y el padre de muchos de los riffs utilizados en Hard Rock y Heavy Metal.
Carrera:
Nació el 19 de febrero de 1948 en Birmingham, Inglaterra. Iommi comenzó con la guitarra inspirado en los grupos que le gustaban de adolescente, Hank Marvin & The Shadows. En 1967, Iommi había tocado con algunos grupos de blues, y formó un grupo (Earth) con tres conocidos de sus días escolares: el bajista Terry "Geezer" Butler, el baterista Bill Ward, y el cantante John "Ozzy" Osbourne.
La carrera de Tony como guitarrista estuvo a punto de terminar prematuramente cuando sufrió un accidente horrible en una fábrica de metal en plancha. Una de las máquinas le rebanó la punta de los dedos de su mano derecha. Deprimido se convenció de que sus días como guitarrista habían terminado. Fue entonces cuando un amigo le habló del guitarrista Django Reinhardt , que perdió la mobilidad de dos dedos en un incendio en el campamento gitano donde vivía, pero que aun así siguió tocando. Esto inspiró a Iommi para seguir con la guitarra, usando unas pequeñas prótesis de goma para sustituir las puntas de sus dedos.
Poco después de esto, Iommi recibió un tentador ofrecimiento: unirse a la banda Jethro Tull en 1968, que él aceptó renuentemente. Fue el guitarrista que sustituyó a Mick Abrahams, tras abandonar este último la banda en dicho año. Permaneció sólo diez días con la banda y actuó sólo una vez con éstos,[1] (para la grabación del espectáculo Rolling Stones' Rock and Roll Circus, en el que se le puede ver
en la edición en vídeo del mismo), Iommi dejó a los Jethro Tull para volver con sus compañeros en Earth.
Con otra banda tocando en Inglaterra con el nombre Earth, Iommi y su banda fueron obligados a cambiar su nombre, tomando así el nombre Black Sabbath del título americano de la clásica película de horror italiana "I Tre Volti Della Paura."
Con el cambio de nombre también cambio la dirección musical. La banda exploraría los asuntos líricos oscuros, con música repetitiva y fuerte. Sabbath creó las bases para el heavy metal con descargas clásicas increíblemente influyentes y sin precedentes, como su debut de 1969 titulado Black Sabbath, Paranoid y Master of Reality en 1971, Vol. 4 en 1972, y en 1973 Sabbath Bloody Sabbath, llegando a la cima del mundo las bandas de Heavy Rock. La guitarra de Iommi dio las bases del metal con temas como "Black Sabbath," "N.I.B.," "Paranoid," "Iron Man," "War Pigs," "Into the Void," y "Children of the Grave," convirtiéndose así en uno de los guitarristas y creadores de riffs más reconocidos en la historia del rock.
Pero a finales de los años setenta, el constante consumo de drogas empezó a fracturar la banda, llevando así a la salida de Osbourne en 1979. Después de mantener vivo el nombre Black Sabbath, con varios inspirados lanzamientos sin Osbourne, incluyendo los álbumes con Ronnie James Dio como vocalista - "Heaven & Hell" de 1980 y "The Mob Rules" de 1981 - que restablecieron el éxito comercial de la banda, Iommi cambió el enfoque de esta a Europa y grabó varios álbumes con Tony Martin, incluyendo "Headless Cross", y emprendió giras a Rusia y al este de Europa.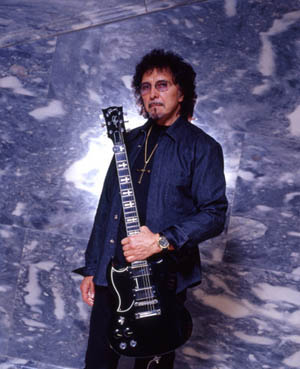 La formación original de Sabbath se reunió para giras muy exitosas a finales de los 90, creando nuevos fans, demasiado jóvenes para haber conocido la banda en su auge en los 70s. Un Premio Grammy hizo que siguiera la gira de reunión cuando la canción "Iron Man" ganó en la categoría de Mejor Actuación de Metal en 1999.
Algunos discos de Sabbath pueden ser considerados con Tommi Iommi como "solista" (Seventh Star fue considerado como un álbum de Sabbath en su momento por Warner Bros por motivos comerciales, bajo el nombre "Black Sabbath featuring Tony Iommi.) Pero su primer disco real como solista fue en el 2000 ("Iommi"). El disco de 10 canciones fue bien recibido por la prensa y el publico.
Iommi está trabajando actualmente en su programa de radio 'Black Sunday ' para la emisora Planet Rock del Reino Unido.
Tracks:
01. Not the Same
02. I'm Gone
03. Real World
04. Don't You Tell Me
05. I'll be Fine
06. From Another World
07. Through the Rain
08. Shakin' My Wings
09. No Stranger to Love
Enlace de descarga
Tracks:
1. Laughing Man (in the Devil Mask) [featuring Henry Rollins] 03:39
2. Meat [featuring Skin] 04:54
3. Goodbye Lament [featuring Dave Grohl] 04:50
4. Time is Mine [featuring Phil Anselmo] 04:56
5. Patterns [featuring Serj Tankian] 04:20
6. Black Oblivion [featuring Billy Corgan] 08:20
7. Flame On [featuring Ian Astbury] 04:29
8. Just Say No to Love [featuring Peter Steele] 04:27
9. Who's Fooling Who? [featuring Ozzy] 06:10
10. Into the Night [featuring Billy Idol] 05:01
Enlace de descarga
Tracks:
1. "Black Sabbath" – 6:16
2. "The Wizard" – 4:24
3. "Behind the Wall of Sleep" – 3:38
4. "N.I.B." – 6:06
5. "Evil Woman (Don't Play Your Game With Me)" (Dave Wagner, Dick Weigand, Larry Weigand – Crow) – 3:25
6. "Sleeping Village" – 3:46
7. "Warning" (Aynsley Dunbar, John Moorshead, Alex Dmochowski, Victor Hickling) – 10:32
Enlace de descarga
Tracks:
1. "Wheels of Confusion/The Straightener" – 8:01
2. "Tomorrow's Dream" – 3:11
3. "Changes" – 4:44
4. "FX" – 1:43
5. "Supernaut" – 4:49
6. "Snowblind" – 5:33
7. "Cornucopia" – 3:54
8. "Laguna Sunrise" – 2:55
9. "St. Vitus Dance" – 2:29
10. "Under the Sun/Every Day Comes and Goes" – 5:52
Enlace de descarga