Glenn Hughes
es conocido como ex bajista del mítico grupo de hard rock Deep Purple, además de como vocalista para Blac
k Sabbath en los 80's y para el guitarrista de estos últimos, Tony Iommi, además de por su dilatada carrera en solitario.
Características y estilo
Glenn Hughes posee una poderosa voz. Su caudal de voz es amplísimo, alcanzando notas en el extremo agudo con una potencia descomunal, como dejó constancia en diversos temas grabados a lo largo de su carrera. También posee la particularidad de realizar notorios cambios de registro, dejando constancia sus muy marcadas influencias de los estilos Soul y Funk. En su instrumento, el bajo, posee un gran virtuosismo, siendo uno de los primeros en incursionar sonidos y estructuras funk y Soul en el hard rock.
Trayectoria
Años 70: Deep Purple e inicios en solitario
Grabó 3 discos memorables con Deep Purple entre 1973 y 1975, tras la mar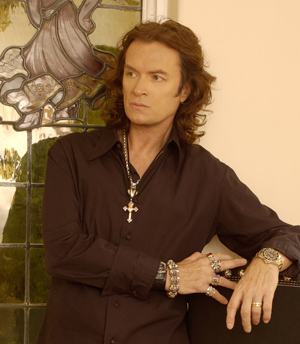 cha de Ian Gillan ("Burn", "Stormbringer" y "Come Taste The Band"), en la formaciones que se conocen como "Mark 3" (junto a Paice, Blackmore, Lord y Coverdale), y "Mark 4" (junto a Paice, Bolin, Lord y Coverdale). Su paso por la banda inglesa se caracterizó por una marcada influencia Soul, una influencia que compartía con David Coverdale y que no complacía sin embargo a Ritchie Blackmore.
Tras la desintegración de Deep Purple, graba su primer disco solista en 1977, titulado "Play Me Out".
Años 80: Seventh Star
Tras ello, cabe destacar su recordada colaboración con Tony Iommi, en el disco de 1986 "Seventh Star", un disco que fue editado bajo el nombre de "Black Sabbath featuring Tony Iommi", pero que se enfocó desde un primer momento como un álbum en solitario del guitarrista, y que tuvo continuidad con un Bootleg, que circulaba de manera clandestina bajo el nombre de "Eight Star", y que finalmente se editó en el 2004 bajo el nombre "The 1996 DEP Sessions", y que supuso la recuperación del Tandem Iommi-Hughes, en un proyecto que recibió el nombre de Iommi.
Dur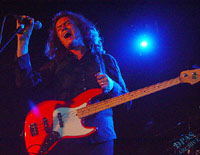 ante el resto de los años ochenta se sumió en una larga década de decadencia y excesos que no le permitieron continuar una línea artística estable y definida.
Años 90: reactivación
Su vuelta a la actividad estable aparece marcada con la colaboración en el disco "Face The Truth", en 1992, del, en aquel entonces, ex guitarrista de Europe (banda en la que hoy en día toca nuevamente), John Norum. Posteriormente graba un gran disco llamado "From Now On" (1994), con varios miembros de Europe en su banda. A lo largo de la década grabó numerosos y notables discos
Años 2000: Hughes-Turner Project, "Music for the Divine" y Iommi
En los Años 2000, es de destacar su proyecto Hughes Turner Project, con el que fuera vocalista de Rainbow Y Deep Purple, Joe Lynn Turner. A lo largo de más de una década desde ese entonces hasta hoy, grabó numerosos y notables discos, como los recientes "Songs In The Key Of Rock" (2003), "Soul Mover" (2005), y "Music for the divine" (2006); este último, un rotundo éxito de crítica en el que colaborarían el batería Chad Smith (Red Hot Chili P
eppers) y el guitarrista de Jane's Addiction Dave Navarro, una muestra más de su eclecticismo e inclinaciones por los sonidos funk. Tras la grabación de este disco, Glenn y el baterista Chad Smith iniciarían una gira que recalaría en Europa. Tras ello Glenn graba el disco "Fused", continuación de su colaboración con el legendario Tony Iommi, ex guitarrista de Black Sabbath.
Otras colaboraciones y apariciones
El 20 de noviembre de 1998 estuvo como artista invitado en un recital de Temple (la banda solista de Walter Giardino, guitarrista de Rata Blanca)en el teatro Coliseo tocando temas como "Burn" y otros clásicos de Purple. También participó de los conciertos que estuvo dando Rata Blanca el 11 y 12 de diciembre de 2003 en el teatro Gran Rex de los cuales se editó un DVD que salió a la venta en el 2005. Entre esos años también participó en algunos pequeños conciertos más con esta banda que no quedaron registrados.
En 2003 participó en la Metal Opera titulada "Aina: Days of Rising Doom".
Music For The Divine (2006)
Tracks:
1. Valiant Denial
2. Steppin' On
3. Monkey Man
4. This House
5. You Got Soul
6. Frail
7. Black Light
8. Nights in White Satin
9. Too High
10. This Is How I Feel
11. Divine
Enlace de descarga
password: mud
Tracks:
1 Revelation
2 Alone I Breathe
3 Losing My Head
4 Going My Way
5 Hold On
6 Lost Dreams
7 Time and Time Again
8 Goodbye Friday
9 Burning the Sky
10 Keep on Shining
11 Sofia
12 Let's Talk About It Later
Enlace de descarga
Come And Taste The Band (1975)
Tracks:
1. Comin' Home (3:52)
2. Lady Luck (2:45)
3. Gettin' Tighter (3:36)
4. Dealer (3:49)
5. I Need Love (4:22)
6. Drifter (4:01)
7. Love Child (3:05)
8. This Time Around
9.- You Keep on Moving (5:18)
Enlace de descarga